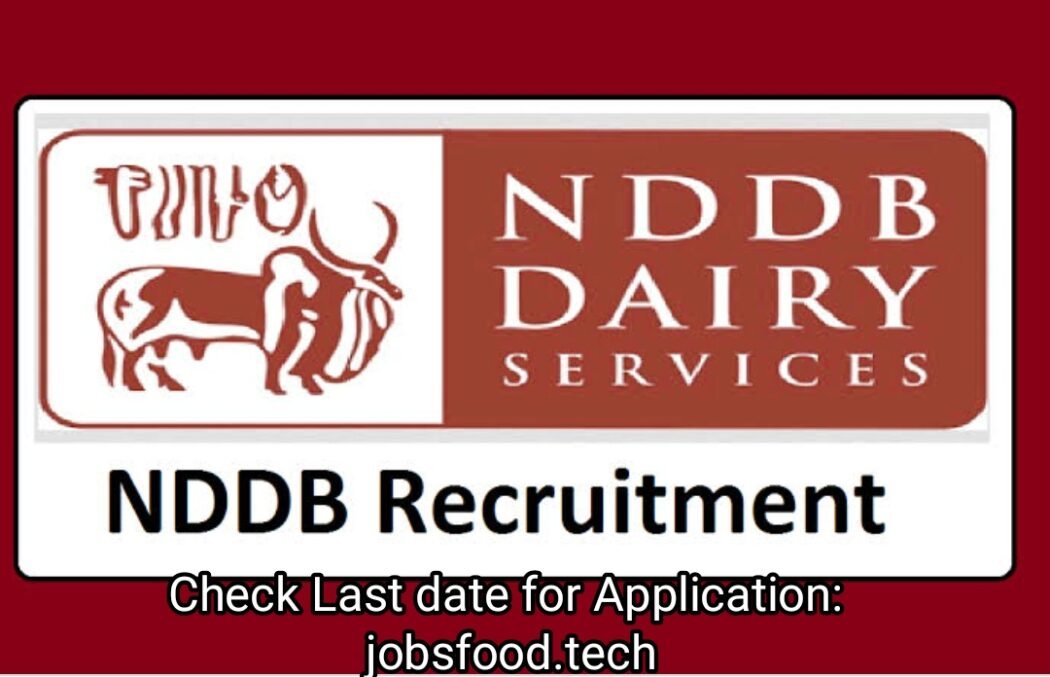 Vacancy in NDDB National Dairy Development Bord ( Jobsfood.tech)
Vacancy in NDDB National Dairy Development Bord Check Last Date of application below.
Deputy Manager (ICT)-Reserved for Scheduled Tribe (ST) Category
Discription:
NDDB offers excellent work environment with considerable freedom for innovation. We are looking for ERPNext consultant who can help us in implementing an end to end solution for a typical manufacturing industry. Consultant should have experience in manufacturing and should have working experience in complete ERPNext implementation. Should be ready to train in-house customers in terms of functionality and technical aspects.
Job Category:
Information and Communication Technology
Designation:
Deputy Manager
Profile Summary
​​Implementation and customisation of ERPNext for manufacturing industry.​
​​​ROLES AND RESPONSIBILITIES:
Vacancy in NDDB National Dairy Development Bord
Installation of ERPNext and Managing updates and upgrades of ERPNext system for existing projects
Mapping a business processes and customize ERPNext as per requirement
Development of custom App on ERPNext platform
Ensure a smooth transition for current customizations with upgrades of Frappe and ERPNext.
Build full applications on Frappe framework from scratch as per project requirements and
Any other task assigned by the reporting officer from time to time
MAIN RESPONSIBILITIES:
Extensive experience of using Frappe, JS, Python, MariaDB
Working with a backend framework such as Frappe
Building JavaScript-based applications & REST APIs
Design and develop efficient and optimized frontend scripts on ERPNext
Develop python scripts and API's to collaborate with ERPNext
Upload custom-developed code on GIT for versioning
Actively participate and contribute to open source communities
Fixing and improving available features
Training on ERPNext features and functionalities
ADDITIONAL/ OCCASIONAL RESPONSIBILITIES:
​Exposure of Analytical / BI tool. ​
Qualification & Experience:

​B.E. (IT/Computers) or B.Tech./M.Tech (IT/Computers) or MSc (Computer Science) or MCA or equivalent with minimum 2 years of working experience preferably on ERPNext after successful completion of above mentioned qualification.
Location: Anand
​Skills/ Attributes: Technical:
Familiarity with current ERPNext features and functionalities.
Proficiency in working on Frappe & ERPNext
Excellent Command over Frappe Framework, Javascript, Python, MySQL, MariaDB, Redis
ERPNext, Python, Frappe, NodeJS, MySQL/MariaDB, GIT, Bootstrap, Jinja
Passionate about contributing to a small team and helping drive our technical vision
Proficient understanding of cross-browser compatibility issues and ways to work around them.
Passionate about building modern web applications as well as data-driven recommendation Systems and internal testing platforms
Proficient with JavaScript design patterns
Ability to multitask and work among competing priorities
Quick learner, innovative, proactive, flexible, and adaptable

Analytical Thinking.
Must have worked on live projects of ERPNext
Additional Skills:
Knowledge of working on Linux system.
Any experience in open source development
Details:
This position is on a Fixed Term Employment for a period of 5 (Five) years.

No. of position: 01 (One)
Age limit (Including relaxation): Candidates above 32 years of age as on 01 October 2022 need not apply
Place of Posting:
Anand, Gujarat and the candidate should be willing to work Anywhere in India.
The last date for submission of updated online application is 18 October 2022.
Apply FSSC-GMP-ISO-HACCP Training 1180/- Only